Watering Can Workshop
Swap a sleepy Sunday for an afternoon at the workshop. Together we will make a watering can. With lots of chat and tea drinking along the way.
I will guide you through every step, first demonstrating techniques then letting you take the tweezers. I will be hovering nearby to help you create the prize of your tool shed.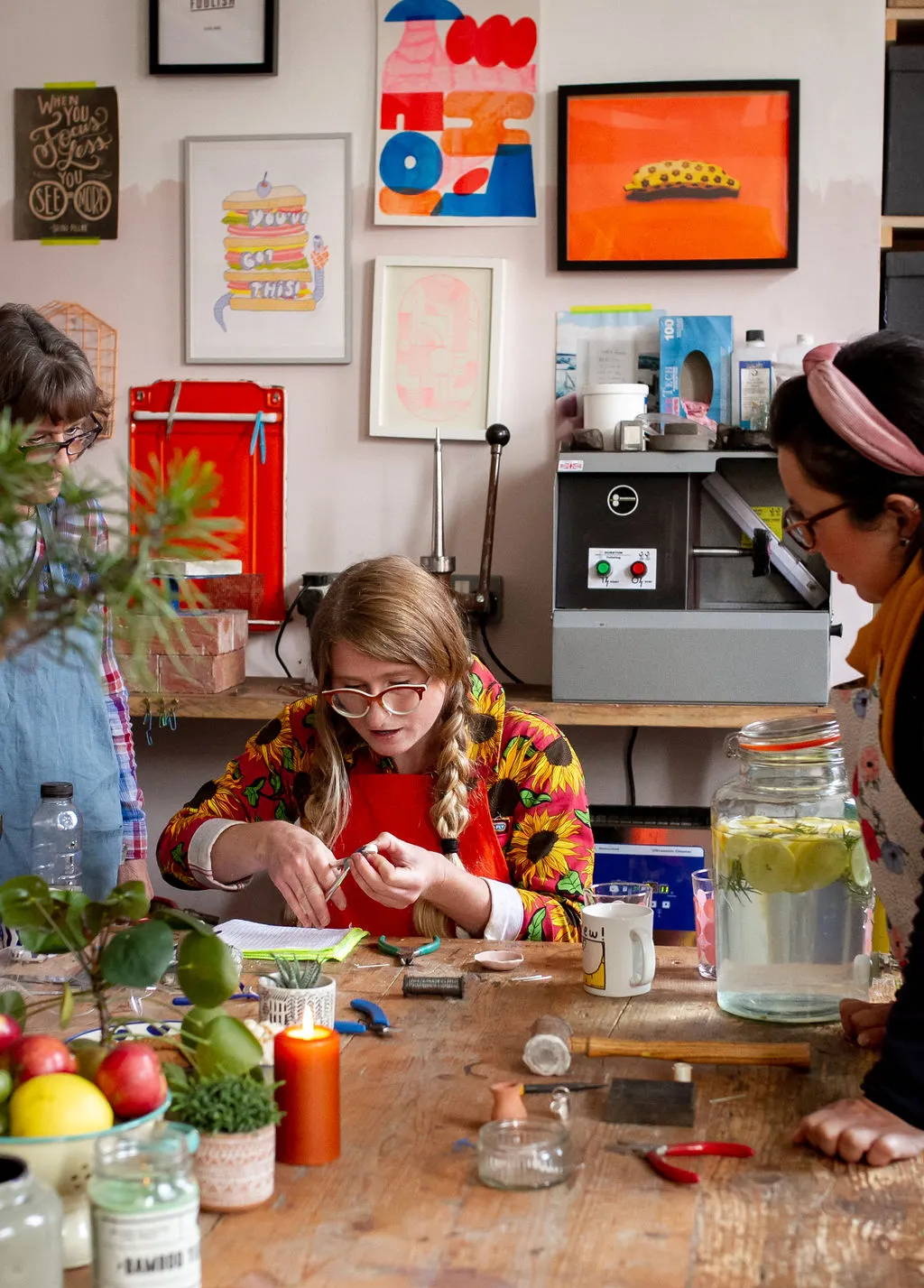 Monthly Sundays / 10am - 4pm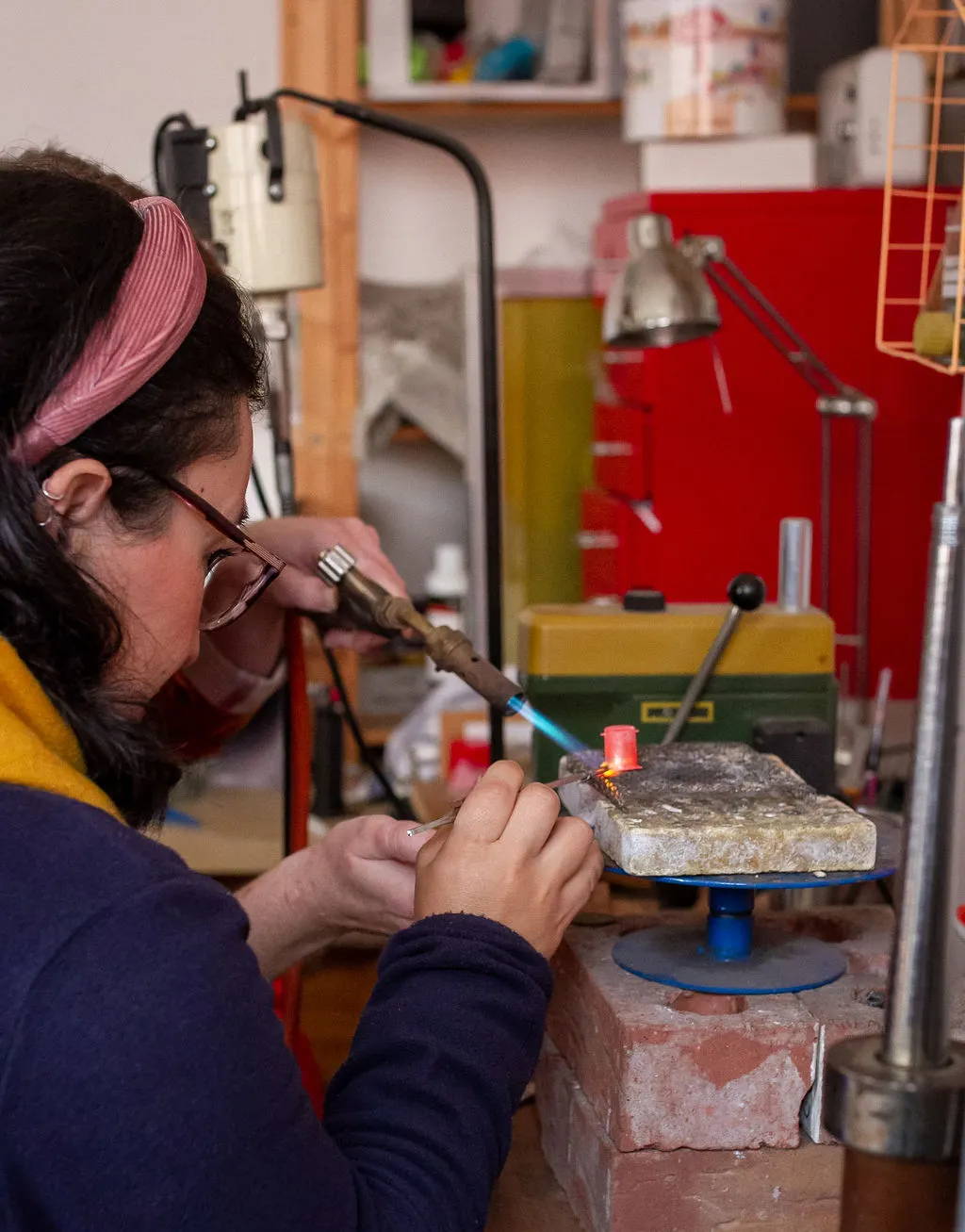 The watering can is derived from the one that lives in my 'Big Tools' jewellery collection, however - you have creative license over your spout and handle combo. Select from varying wire gauges and construct your own style handle.
Select from three sizes of cylinder to create your watering can body. We shall then add the spout, rose, top handle and side handle.
No one will be the same! Create your own unique watering can style.
Tall and thin, short and wide, long spout - short spout, big rose - small rose.
Then decide whether it's ornamental or a necklace.
You can book to attend the workshop right here through my website. Please click here to be taken to the booking page.
View the calendar of dates and select which one suits.
The workshops are held on the last Sunday of every month. If you can't attend the listed dates but are desperate to make your own watering can - please do get in touch and we can arrange another suitable date.
If you would like to book more than one place or have a private workshop for up to four people please email ellie@ellenlou.com
The watering can workshop is priced at £260 per person.
One day, running from 10am - 4pm.
Hot drinks, sandwiches and cake are included.
Take home your watering can on the day.
The maximum attendees per workshop is four people, I have four jewellery benches and one large central table. It is not possible to run the workshop with more than four people as you each will sit at a jewellers bench for some sections of the day. A lot of attention is needed and I'll be jumping in to help you along with filing and soldering so I can't stretch myself too thin!
The workshop will go ahead even if not fully booked. I know how disappointing it is when an event you're looking forward to is cancelled.
£260 is not a small amount of money to part with - I hope that you will leave the workshop feeling proud, full and inspired!
You will leave with a watering can that you'll have to convince people you made yourself. You'll leave with a belly full of handmade crusty bread sandwiches and homemade cake. If you have a cake preference - let me know. I'll bake it the night before. And lastly - I hope you'll leave the workshop feeling energised having met some fellow gardening enthusiasts and ready to take on new challenges having created something beautiful with new found skills and jewellery knowledge.
The venue is my jewellery workshop - No Peg Studio.
No Peg Studio is located on Caroline Street in the Jewellery Quarter, Birmingham.
We are on the first floor of a Grade II listed building and like many other ancient JQ workshops - we have very steep stairs with a sharp bend at the top. The watering can workshop is therefore unfortunately not suitable for those with ability limitations.
I plan to start running simpler workshops which don't require specialist equipment, in local cafes, stores and garden centres. If you can't make it to the workshop for access reasons - I hope that you are able to join at another location in the future instead.
Parking - there is free on road parking in front of the workshop and all around the Jewellery Quarter on Sundays.
You can get the Chiltern line train to the Jewellery Quarter and walk to the workshop in 10 minutes.
You can also get the train to Grand Central/New Street and walk to the workshop in 30 minutes or you can take the tram from Grand Central to St Pauls.
If you would like to cycle, you can store your bike on the landing if you're able to carry it upstairs, or we have a lamp post outside. Lock advised!
I'll be serving up all the nutrition needed to keep your energy levels up - part of the master plan to keep you fit for filing!
Tea and coffee on tap all day, as well as squash and fancy water - a Kilner jar with lemon slices and freshly picked herbs from my pots.
Handmade sandwiches on local Stirchley baked crusty bread.
And lastly, if there's room - freshly baked cake. And of course party bags to take home what we don't get through.
And biscuits. How could I forget the biscuits.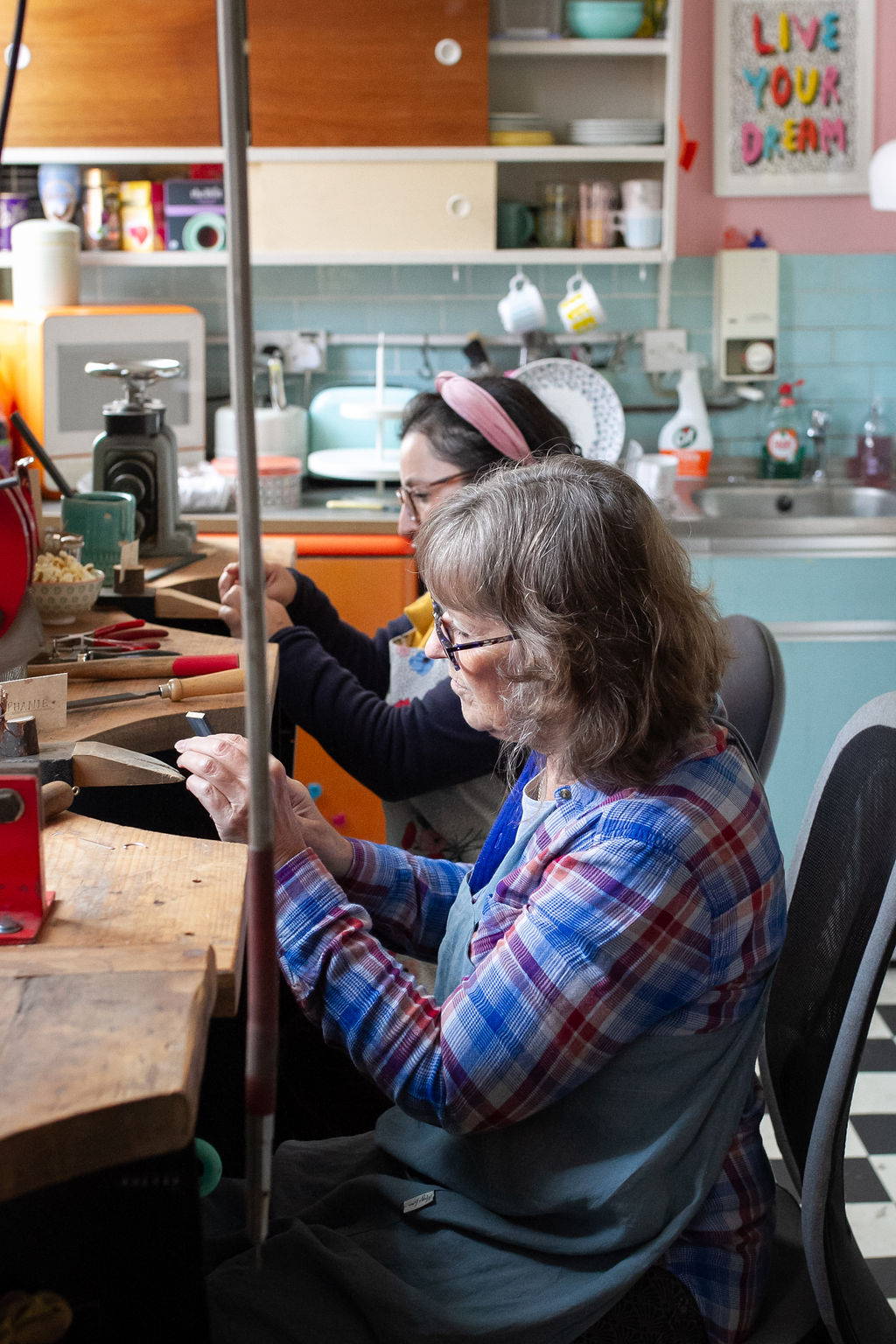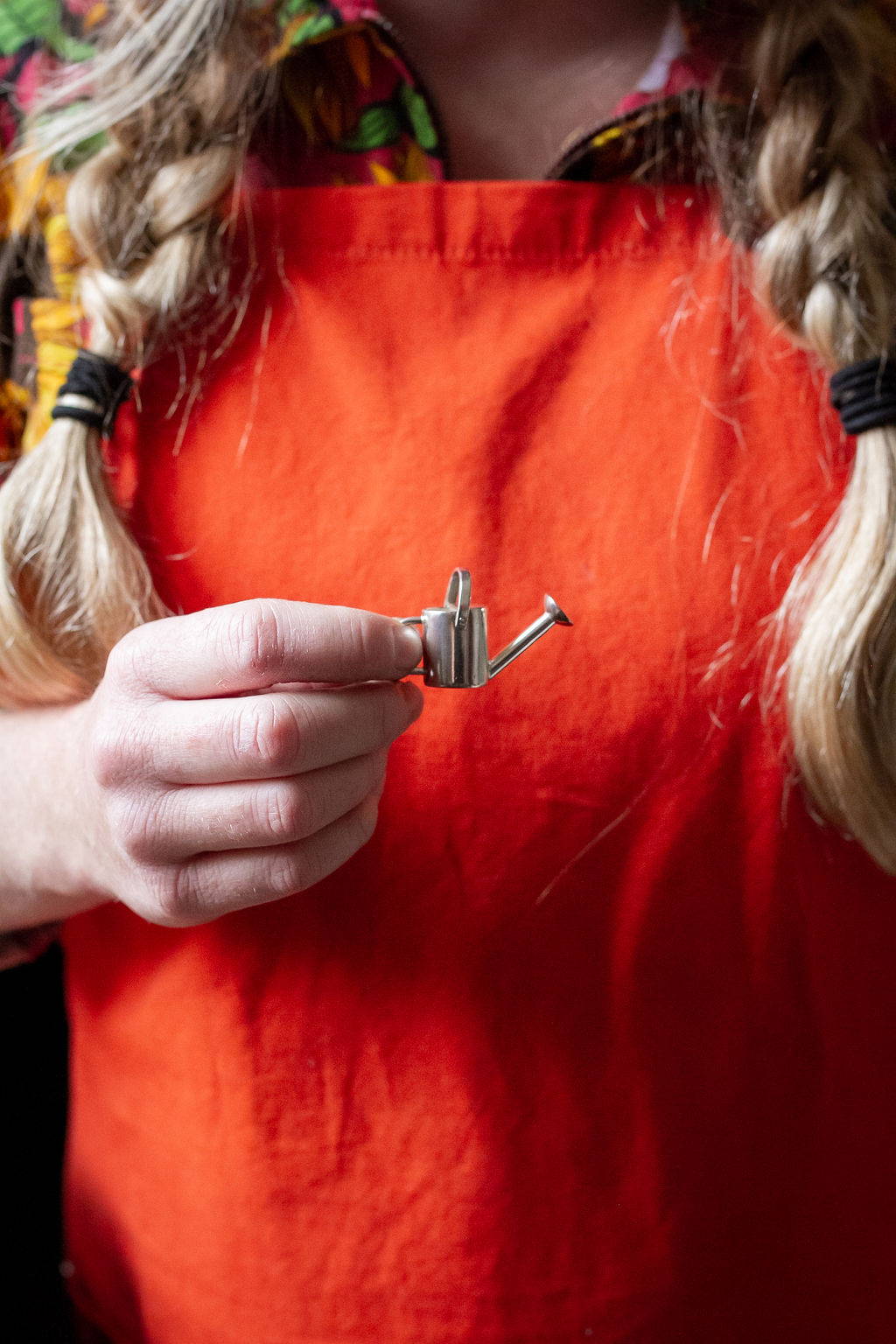 What techniques are used ?
We will use traditional goldsmithing techniques to create your watering can:
Forming - bending wire for the handles
Riveting - to secure the top handle
Disc cutting - to create the 3D rose
Drilling - spout & rose holes
Filing - the base, handle & spout
Buffing - to remove scratches and shape
Soldering - we will use two soldering techniques; pallion and stick feeding.
Welding - to secure your jump ring on the PUK welder.
Everyone!
Complete beginners as well as those with jewellery knowledge.
I will be hovering nearby ready to help at any point to guide you through the whole process. I am your personal tea maker and filer for the day!
Think of the workshop as an experience taster day. You'll leave with a watering can that we have worked together to create. If you're new to jewellery making then I will likely need to help you along to ensure that we're home for the Antiques Roadshow.
I would say that this kind of workshop is not for you if you are looking for a jewellery making course or in depth tuition. If you are looking for a more comprehensive class there are several talented makers in the Quarter running regular classes.
What else do I need to know ?
Incase you missed anything - here's a quick recap of the important bits :
Monthly Sundays - last Sunday of the month.
10am - 4pm.
Take your watering can home with you.
Make it ornamental or a necklace.
Hosted at No Peg Studio, 59 Caroline Street, Birmingham, B3 1UF.
Free on road parking.
Priced at £260 per person.
Full refund if you need to cancel or transfer to another date.
Unlimited hot and cold drinks.
Sandwiches, cake and nibbles provided.
Email ellie@ellenlou.com to discuss an alternative date or group/private bookings.
No experience neccessary.
Aprons are provided but best not to wear your glad rags.
If you have any questions about the workshop, please do get in touch ...
Thanks!
This field is required
This field is required
This field is required
If you'd like to receive a monthly update of my latest bespoke creations and the making process behind them - you can sign up to my newsletter below: